Three Things
A simple roast turkey, wintry vegetarian stews, a cookbook to get excited about
Hello eaters and readers! Hope you had a nice weekend — we road-tripped to Kingston for the day and inhaled this white mushroom pizza at Lola, then walked along Wall Street and the Hudson River waterfront ducking in and out of home goods and vintage furniture stores. (In terms of food, there were several other spots that came highly recommended, including Buns Burgers, Yum Yum Noodle Bar, Kingston Bread + Bar, and the wine bar Brunette.) In viewing news, we have been watching and loving season two of The White Lotus (what a cast: Aubrey Plaza, F. Murray Abraham, Michael Imperioli) and eagerly await this weekend's premier of Fleishman is in Trouble, based on the Taffy Brodesser-Akner 2019 page-turner* and starring Jesse Eisenberg and Claire Danes. Lastly, The World Cup starts in less than a week! I promise you, even if you're not a soccer nerd, it's the kind of Global Sporting Event that any human can get into — for starters it only happens once every four years and the players compete for their home countries, which makes the stakes so much more exciting and emotional. The U.S. plays England the day after Thanksgiving at 2:00pm ET, and we will definitely be serving Leftover Sandwiches and maybe even a few Bloody Marys at kickoff. What is your plan? What is your menu? Here are this week's Three Things.
*Yes, full disclosure, I am married to the editor, but you can do your own due diligence, starting with this
pretty glowing review
.
1. Feeling Stewy
It finally feels like fire-in-the-fireplace weather, which is another way of saying, let's make some stews. The word "stew" used to be synonymous with a bowl of Belgian-beer braised beef or Hawa Hassan's Digaag Qumbe, a Somali chickeny dish with yogurt and coconut, but these days, I find as much warmth and comfort from their plant-based brethren. Our friend Todd came over for dinner the other night and we blew his mind with Alison Roman's Spiced Chickpea Stew with Coconut and Turmeric, once so ubiquitous, it was known only as "The Stew"; there's Priya Krishna's Khichdi, the classic, porridge-like lentil-and-rice dish that I talk about ad nauseam. (True story: I once had a summer intern count how many times I've mentioned it in the newsletter so I could attempt to address the repetition problem. Clearly it did not work.) There are of course two stews from The Weekday Vegetarians on permanent rotation here in DALS land: the Stewy Lentils with Chard and Feta and the Spicy Chickpeas with Tomatoes and Greens. Needless to say, all of these one pot, warm-your-bones dinners are made even more special when you have a just-off-the-skillet yogurt flatbread, all the better for dunking and dipping. That recipe, too is in TWV, on page 222. Once you make it, you'll never go back.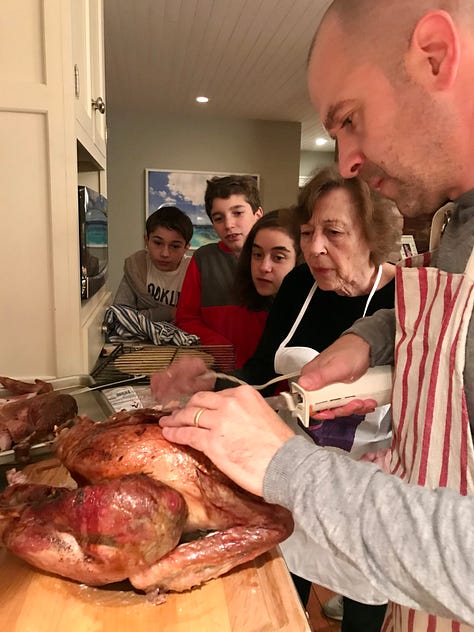 2. A Few Thanksgiving Things
BREAKING! The simple roast turkey recipe from my third book, How to Celebrate Everything, is now available on Dinner A Love Story. Fun fact: I have only made one Thanksgiving turkey in my life and it wasn't even on Thanksgiving Day. (My mom owns that duty.) It was in fact, one random afternoon in the middle of July, when I was in the recipe testing phase of my book. (Deadlines are deadlines!) If you're wondering why you should trust a relative novice with one of the most high-pressure culinary moments of your year, I will only say 1) this is a version of my mom's recipe that she has been making for years and it always delivers, and 2) having never roasted a turkey, I was intimidated by the task, but what sticks in my mind from the testing was just how simple it was. My main takeaway: If you can roast a chicken, you can roast a turkey. I hope you agree. Here is the recipe. Also…
…as is tradition, here is the quick round-up of the pies that have made multiple appearances on our dessert spread: a version of my mom's Chocolate Pudding Pie; Pumpkin Pie, yes we use the recipe on the can, and it is a hill we will die on; Cranberry-Lime, complete with sugar-dusted cranberries; and a classic Maple-Bourbon Pecan. This year, I've added a gluten-free confection to the mix…. Not technically a pie, per se, but a Pistachio-Almond Cake that has a crackly top and a gooey interior…like a pie masquerading as a macaron. It's from the new book Extra Good Things, by the Ottolenghi Team and it's over on Cup of Jo.
3. In Cookbook News…
Of all the original food bloggers, no one writes more addictive recipes than Deb Perelman of Smitten Kitchen. This cookbook, her third, is devoted to what she calls Keepers, which is how I think of almost every dish I've ever made from her massive archive. There are all the usual comfort-foody crowdpleasers (Meatloaf, Chicken and Dumplings, Devils Food Cake with Salted Milk Chocolate Frosting) but I also really love what I see when I flip through the pages wearing my Weekday Vegetarian goggles — she has three sections devoted to vegetable dishes, "small," "medium," and "big," and I've earmarked a dozen of them already including the Slow Simmered Lentils with Kale and Goat Cheese, Baked Orzo and Artichokes, Swiss Chard Enchiladas, Tangy Baked Eggplant and Couscous. That cover girl, the Green Angel Hair with Garlic Butter, looks pretty damn good, too, but all I can think of when I see the photo is my food stylist friend Olivia who creates wine for photo shoots by adding a drop or two of soy sauce in some water. Anyway! The book is out today and if I were hosting Thanksgiving I sure wouldn't mind getting it as a thank-you gift.
Have a great week!
Jenny
Dinner: A Love Story is a reader-supported publication. To receive bonus posts like weeknight meal plans (once a month), recipe indexes, and vacation ideas, consider becoming a paid subscriber.